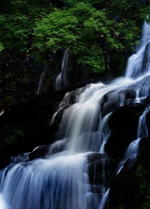 Natural Rocks Spring Water Ice comes from the vast Glacial Lake Pequawket Spring located in Fryeburg Maine.
This spring, tapped by a state of the art facility is especially prolific: it encompasses an area of approximately 1,000 acres, and stores trillions of gallons of excellent quality water filtered by coarse granitic sediments laid down by Maine glacial meltwaters about 10,000 years ago.
The spring's recharge area, though extensive, is largely undeveloped, consisting primarily of evergreen forest and conservation land held in trust by the Maine Nature Conservancy. The integrity of the water is assured by the low intensity of existing development and continued public and private efforts to restrict development to protect the spring. The quality of the spring water used to make Natural Rocks Ice has been proven by its use as a water source for nearly 50 years.